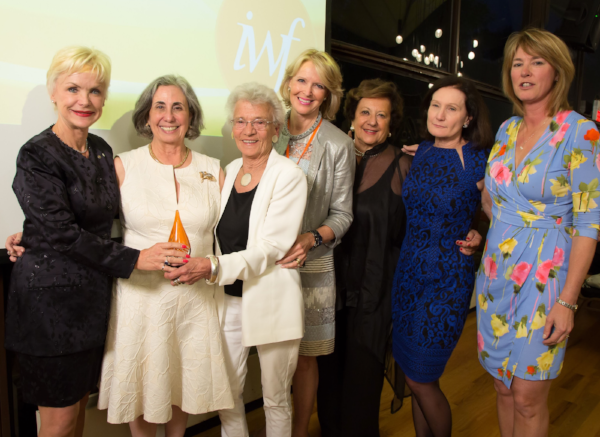 This past June at the 2017 AGM and WOMEN AS AGENTS OF CHANGE conference in Montréal an exciting new IWF Canada initiative was introduced. Dubbed the Circle of Luminaries the enterprise was undertaken as a way of recognizing those IWF members who have made a large impact on the organization. IWF Canada is proud to have a strong membership of over 550 members across the country, many whom have gone above and beyond. The idea was initially conceived by Leslie Quinton (Montréal chapter) and a committee was formed. Karen Oldfield, outgoing IWFC President, commented that selecting the inaugural award recipients was a rigorous process, the results of which were shared with the membership at the gala dinner. Karen went on to say this was a small but great way to recognize the contributions IWFC has made to this country and concluded by saying how very proud she was to be able to do this for our membership.
The 2017 inaugural Circle of Luminaries award recipients are wonderful examples of trailblazing innovators who have made vital contributions to championing women's leadership.
Micheline Bouchard (Montréal Chapter) is a professional engineer, recognized business leader and experienced corporate director. Ms. Bouchard holds a Bachelor's Degree in Engineering Physics and a Master's Degree in Electrical Engineering from École Polytechnique, Montréal. Ms. Bouchard is the former President & CEO of ART Advanced Research Technologies, a biomedical company. She previously served as Global Corporate Vice-President, Enterprise Services of Motorola Inc. in Chicago after serving as President & CEO of Motorola Canada in Toronto. She has received numerous awards and honors in addition to five honorary doctorates from major Canadian universities. In addition to her impressive professional and educational accomplishments Micheline has also served on several community, professional engineering, business and women's groups. She is a former President of IWF Canada, a member of the Order of Canada and of the National Order of Quebec.
Before marrying a Canadian, Ann Medina (Toronto Chapter) was a Producer for NBC News, and then a Network Correspondent and Documentary Producer for ABC News. In Canada, she became a Senior Foreign Correspondent for CBC's The Journal and, in 1983-84, was the Beirut Bureau Chief. Her topical documentaries aired regularly on BBC and PBS. She also moderated three Federal Election Debates. Throughout her career, she has been a popular public speaker. Ann is Past Chair of the Academy of Canadian Cinema and Television and has served on numerous boards including Humber College, TVO, Calmeadow Foundation and the IWF International Board. She also Chaired its Presidents' Council in addition to Co-chairing the 2003 IWF Leadership Conference in 2003. She has received the YWCA 'Woman of Distinction' award and, in 2010, was included in the 'Top 100 Most Powerful Women'. She has received five honorary degrees including one from the University of Toronto.
Alison Youngman (Toronto chapter) passed away in 2009 at 61 years following a courageous battle with cancer. A senior partner with Stikeman Elliott, Alison embodied entrepreneurial spirit, launching the firm's first marketing group and promoting the adoption of new technologies before it was fashionable to do so. A true champion of IWF Canada, Alison served as President of IWFC as well as on the global board of directors of the IWF Leadership Foundation. In 2008, she was co-recipient of IWF's Sustainable Leadership Award. She chaired the national board of the Canadian Breast Cancer Foundation (CBCF) and spearheaded Stikeman Elliott's participation and contributions to the annual CBCF-CIBC Run for the Cure. Of her volunteering and community involvement, she once said, "Volunteering is the gift that keeps growing." Alison's friends will remember her unflagging delight in camaraderie and laughter. Stricken with lung cancer, she asked for just two things: stories and jokes. She also got a bonus: a stream of outrageous, baldness-concealing hats from IWF colleagues in Calgary - one of which she modelled in the halls of Princess Margaret (with matching boa) to the delight of nurses and patients. Alison was a leader to the end who defined her life as a lawyer, volunteer and champion of women's leadership